Events for 30. 11. 2019
Events Search and Views Navigation
17:00

Bohumír Rabas – organ / varhany Miroslav Kejmar – trumpet and flugelhorn / trubka a křídlovka A. VIVALDI – Concerto in A Minor G. F. HÄNDEL – Gloria in Excelsis Deo T. ALBINONI – Adagio for trumpet and organ J. PACHELBEL - Ciaccona Platba kartou. Budete přesměrováváni na platební bránu.
Find out more »
20:00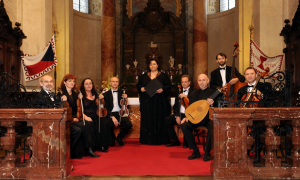 VIVALDI ORCHESTRA PRAGA (on authentic instruments) / (soubor historických nástrojů) Václav Návrat – baroque violin / barokní housle Yvona Škvárová – mezzosoprano / mezzosoprán - (soloist of the National Theatre) / (sólistka Opery Národního divadla) W. A. MOZART – Don Giovanni – overture A. DVOŘÁK – Ave Maria A. VIVALDI – Stabat Mater G. F. […]
Find out more »
+ Export Events
Platba a převzetí vstupenek proběhne těsně před koncertem v přímo v pokladně kostela (platba kartou nebo v hotovosti).