Events for 23. 8. 2019
Events Search and Views Navigation
17:00

SAINT NICHOLAS CHAMBER SOLOISTS Michal Hanzal – organ / varhany Martina Bauerová  – soprano / soprán František Bílek – trumpet / trubka J. S. BACH –Toccata and Fugue in D Minor G. F. HÄNDEL – Messiah A. VIVALDI – Gloria C. SAINT-SAËNS – Ave Maria Platba kartou. Budete přesměrováváni na platební bránu.
Find out more »
20:00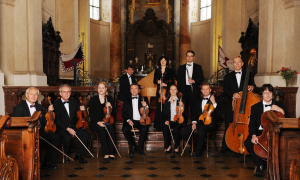 PRAGUE STRING ORCHESTRA Adéla Vondráčková - violin / housle Vratislav Vlna – oboe / hoboj W. A. MOZART – The Little Night Music J. S. BACH – Concerto D Major for violin, oboe and orchestra A. VIVALDI - Concerto F Major for oboe and orchestra A. DVOŘÁK – Symphony No.9 E minor "From the New […]
Find out more »
+ Export Events
Platba a převzetí vstupenek proběhne těsně před koncertem v přímo v pokladně kostela (platba kartou nebo v hotovosti).